| | |
| --- | --- |
| Lil Giants | 11-11-2009 11:45 PM |
---
I took some pics of the Volvo A25 dump box inside the 740's... WOW!!! what a difference in size, not just a little a bit, but aloooot!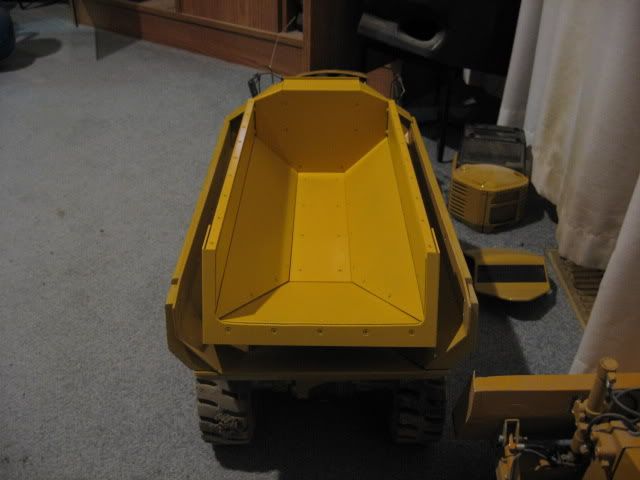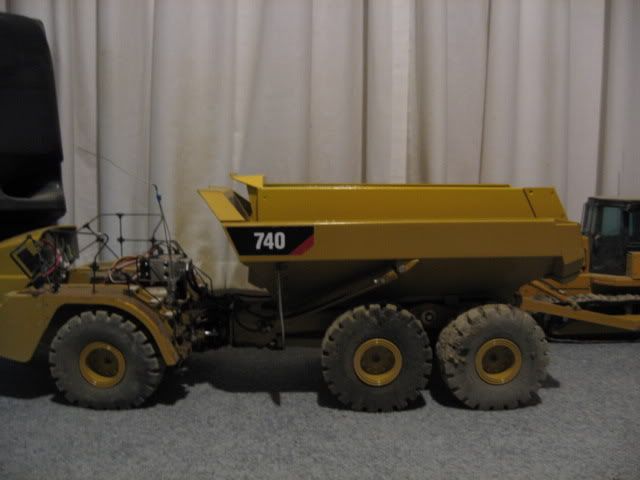 I was eyeballing the partially built Volvo axle under the 740 and it looks like it might fit without too much modification. Once I get my other projects off the bench, then I'll tear down the 740 and try fitting the Volvo axles. Six drive motors would make a new powerhouse out this brute of a model. 8-)
The King 4x4 lives again! 8-) This trk will mainly tote around the equip trl hauling the slow moving tracked equip from job to job. ;)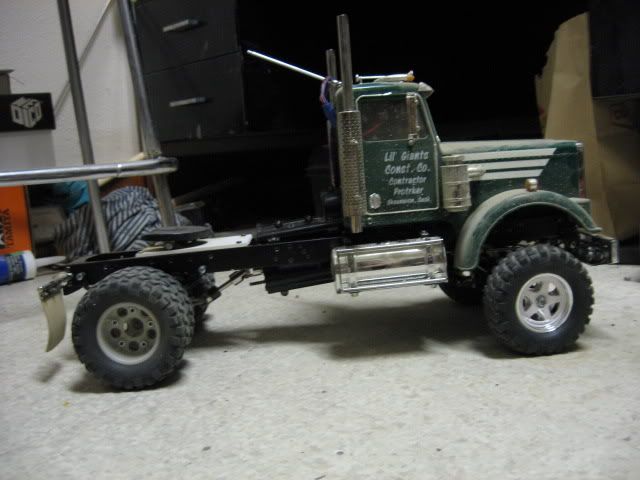 | | |
| --- | --- |
| The_Stuff | 11-12-2009 01:07 AM |
---
glad to see your bruder trailer is in! since you do lots of just shuffling around, maybe taking the ramps off and making tails for the equipment to grab and crawl up might be easier for you?
| | |
| --- | --- |
| bigwayne | 11-13-2009 01:21 PM |
---
Ive been watching your videos for a few months I have to say that I have been waiting to see more of your work. There is a guy on You Tube who is building a B1 bomber from scratch, would do a re-build or something new like what you were talking about the740.
| | |
| --- | --- |
| Lil Giants | 11-13-2009 10:21 PM |
---
I was considering adding a beartail to the trl Dean, but then I don't want it to hang too low & cause a hangup... we'll see. I'll use it the way it is for awhile & make changes later if need be.

Thanx for your interest bigwayne. :nice: Is there a question with your last sentence? I don't understand.
| | |
| --- | --- |
| Spliffy | 11-14-2009 06:12 AM |
---
hi joe, just to let you know the volvo dump tends to be smaller than cats, but they are damn fun to watch on site..

on one site i was working on a i watched a volvo haul more than a cat in a day (loads i mean) it was a very slow day...

but cant wait to see it at work in the basement!!
| | |
| --- | --- |
| Lil Giants | 11-15-2009 02:44 PM |
---
Thanx for the info Spliffy. :nice:
I've been doing some brainstorming with the boys from Norway about improving traction for the Tamiya trks and
caprinut
presented this photo.
So I did that to my white 6wd GL & it has improved axle articulation immensely. Plus I got rid of that pesky dog bone driveshaft, I was destroying one of those every six months.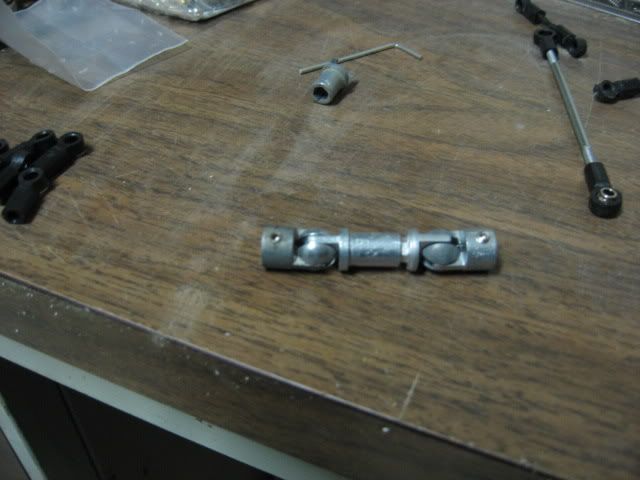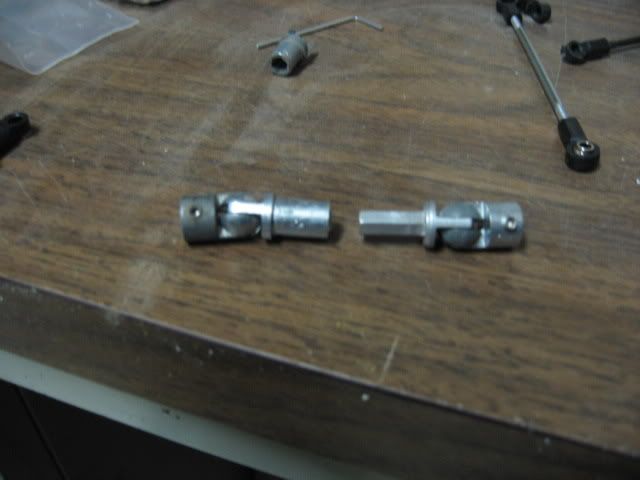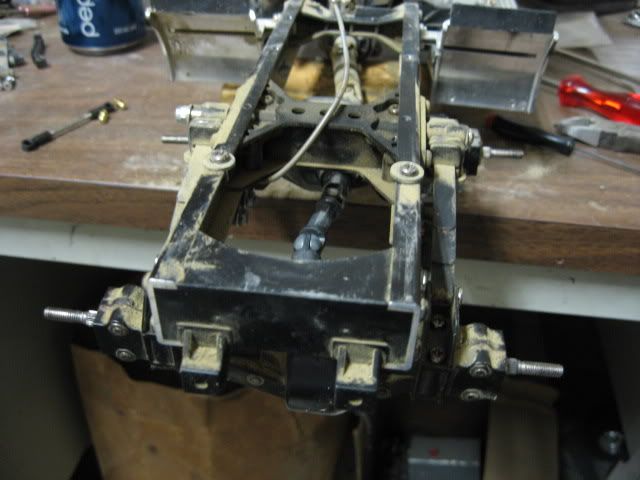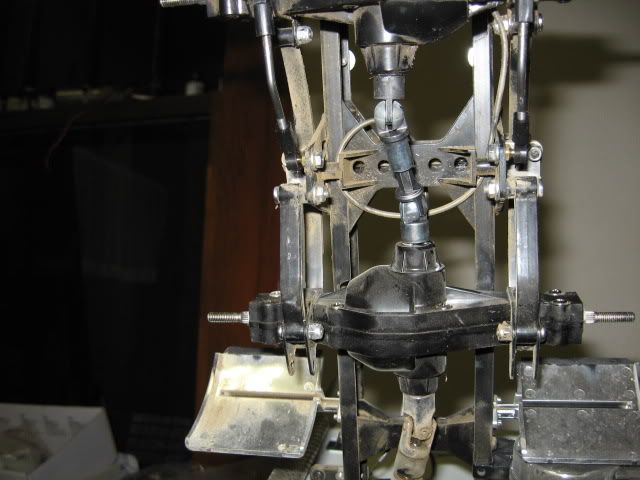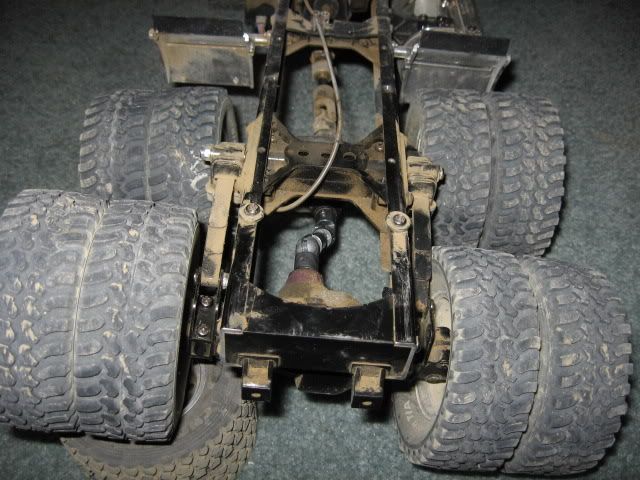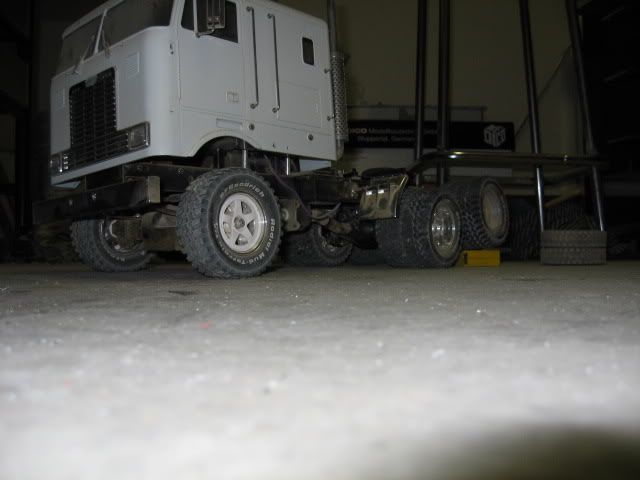 The difference in the spread, Tamiya stock on the right.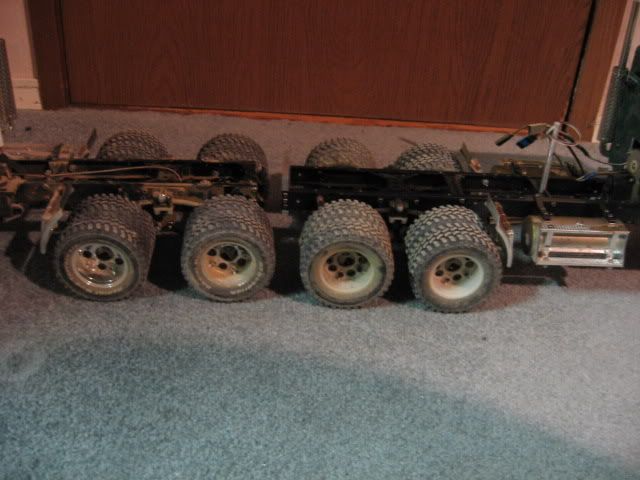 | | |
| --- | --- |
| Spliffy | 11-16-2009 12:24 PM |
---
looking good joe... hope the info helps.. not sure on what the model of the ones i saw were though lol it was one of them days on a big construction site.

but once again cant wait to see it in the basement..
| | |
| --- | --- |
| CGras | 11-16-2009 12:36 PM |
---
Good to see that I could help a fellow member improve his truck. :nice:
The rear suspension does work great now, doesn't it?:lol:

What drive shaft is that you used between the two rear axles? I'm still looking for something to replace my Axial shaft on the 6x6.
| | |
| --- | --- |
| Lil Giants | 11-16-2009 08:16 PM |
---
This is your creation eh CGras? Good job, very effective to keep the wheels grounded in rough terrain. :nice:
This is the same driveshaft that's in my 966, between the rear diff and trans. I look thru the PMD webstore & I only see half of it
#766
.
I see
#2018
, if the picture is accurate, that could be the same shaft, but steel instead of aluminum.
The slider shaft I have could stand to be a bit longer and
#2019
might be the perfect fit.
I assume PMD is getting these shafts from or thru Wedico, as the steel shafts are similar to the ones in the 740, the only difference being the 740's are longer.
| | |
| --- | --- |
| WIREDNUTTY | 11-17-2009 02:46 AM |
---
I knew you would have the answer

2 Attachment(s)
Although I'm aways away from getting to the point of bringing the media/dirt/walnut shells ...whatever i come up with as a safe material that isnt gonna chew my toys up but still give realism and theres a hundred different ones to choose from.... I'll worry about that later, but setting up base camp and incorporating the imbankment thingy is to my advantage upon your insight..... That was a no brainer on keeping it there "duh". Thank you, I was only worried about aquiring as much floor space as possible. Having the imbankment already there is changed everything. Well, thats why your the "PRO". I uploaded two pictures anyway just to give you the idea of the task that I thought I was up against and now the only thing up agianst it is a 5 year old pug and a 6 year mutt while they are sleeping.

Thanks man,
Drew
| | |
| --- | --- |
| The_Stuff | 11-17-2009 09:28 PM |
---
interesting upgrades Joe!!

Nutty - looks like that basement can be a fun playground!
| | |
| --- | --- |
| SmallHaul | 11-19-2009 03:58 AM |
---
The King 4x4 looks cool. Very "tractor" like...
| | |
| --- | --- |
| Lil Giants | 11-25-2009 04:14 AM |
---
Well maybe the "PRO" at playing Drew. :lol: Yeah, that burm will be perfect for tying in bridges too.
:chug: SmallHaul
Well, the suspension upgrade was short lived! The inter axle driveshaft was too short & popped out one too many times and I lost half of it somewhere in the basement. So I changed it back to stock. Also, with the action of changing the susp tavel, the reaction was I did not have quite enough slider travel in my very short jugg shaft between trans & front diff and broke the transmission case! ...I sure made alot of extra work for myself. :thinking:
This is what I have been working at the last five days, digging a couple of holes for more crib wall. This clay dirt is like fricking concrete, probably used about 5 gallons of water to chip down 40 inches below the surface.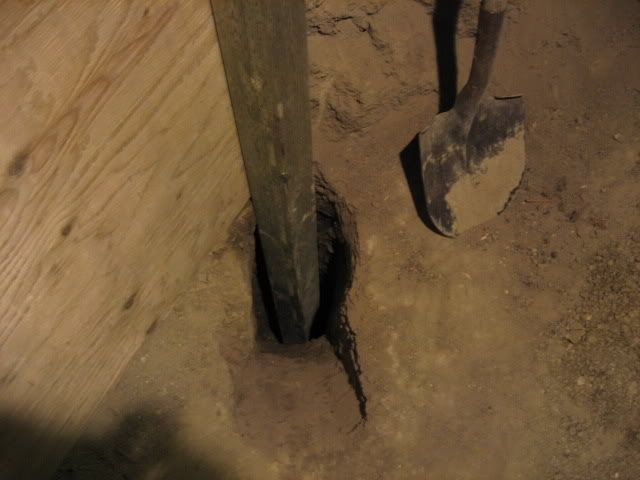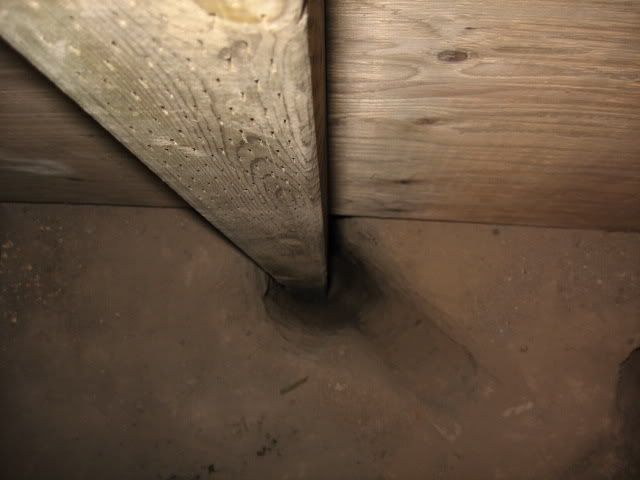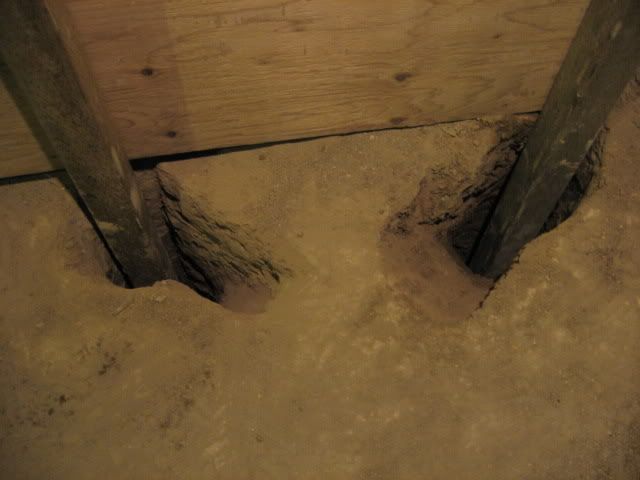 Now I backfill the holes with a few loads of cruhed earth and then I need to chisel away about six inches from the surface to get the sheet of pws to sit level, build the roadway overhead for backfilling & finally it'll be business as usual again in the quarry.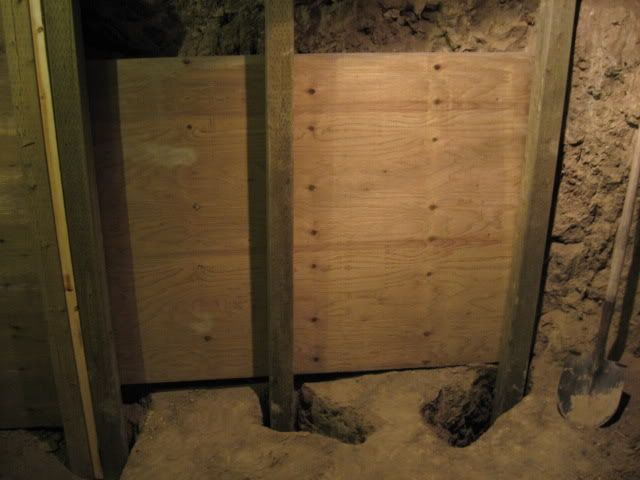 | | |
| --- | --- |
| hugybear | 11-25-2009 07:29 PM |
---
lookin good
| | |
| --- | --- |
| gruardian 388 | 11-29-2009 05:50 AM |
---
Great way on killing two brids with one stone! I only wished I could do most of my jobs around the house like that! :excited: Maybe I trun one of my old trucks in to a street sweeper to clean my hard floors lol :D
All times are GMT -6. The time now is

12:42 PM

.
Powered by vBulletin®
Copyright ©2000 - 2018, Jelsoft Enterprises Ltd.
Copyright ©2004 - 2018, Scale 4x4 R/C