| | |
| --- | --- |
| Lil Giants | 01-11-2009 02:02 AM |
---
Good to hear from you Marty. :chug:
The garden forums were updated a month ago to deal with the enormous amount spam the forums were getting, but now the forums are riddled with errors & now it's next to impossible to use them properly. I've had to manually change new member's password and forward it to them before they could log on the 1st time... providing they were able to find PMD's e-addy first to notify of the problem... PMD's webmaster is MIA! ...can't fix anything without him. :wacko:
If you're
really wanting
a Damitz hoe, then you should put your order in for one
now!
I hear the waiting list is about a yr to get one... small company - lots of orders. They bill you when they're ready to ship your model, you pay them via bank wire transfer.
Damitz's new excavator
| | |
| --- | --- |
| Pipeliner_970 | 01-11-2009 02:11 PM |
---
Thats too bad about the garden forum, i'd really love to be able to tap the wealth of information and knowledge all the guys over there have.

Thats crazy the wait time on the damitz, I don't have nearly the patience to wait a year, it'd drive me insane to wait that long for my hoe.:crazy:

I've been reading the mention of this wdc cat 345 and would also be very interested in that machine, but is sounds as if it's quite a ways out yet also. And from what i've read, I'm not sure I'd want a first generation wdc model either. But my financial situation won't permit the purchase of one of these models any time soon anyway...:(

I've put some thought to the hydraulic bruder conversions also, as thats something I could spend on a little at a time as I could afford to, but then my lack of hydraulic/electronic knowledge would come into play. I will ultimately some day far into the future have the tools to do my own scratch builds, like gabrielles D11 build, but thats a long long ways off for me.

I guess long into short, owning any machine any time soon is just a pipe dream for me. :( But like I said before, I'll just keep reading and watching the videos and living vicariously through you and others with all these great models. And I must say of all that I've seen, your fleet is by far my favorite, many kudos my friend.

Marty
| | |
| --- | --- |
| Metal Militia | 01-11-2009 05:52 PM |
---
where do you get your hydrolics from
| | |
| --- | --- |
| aftershock | 01-11-2009 08:20 PM |
---
| | |
| --- | --- |
| igotit | 01-12-2009 11:20 AM |
---
simply amazing joe,like the kid inside of me wants to play in dirt,as a grown-up id gladly do this all day long!
ive been wanting rc construction equipment for many years,just couldnt afford it!
i worked construction for 6 years,love the dozer and excavator....i want a old 245 cat!

i just want to thank you joe....you gave my wife a new reason to b**** all day long!
i want a excavator!
| | |
| --- | --- |
| crunky | 01-16-2009 08:43 PM |
---
holy geesh...
i have to say i have watched the couple of hours of vids, and read through the entire post over at teh garden and never did i see any price on these things.
it wasnt until the link that was posted up a few more ahead of me that gave a link to them on evilbay.

now that's baller status :)
great fleet you got there buddy.
| | |
| --- | --- |
| Sludge | 01-17-2009 03:53 AM |
---
Hey Joe :wave::wave:

Glad to see you are continuing your thread on scale4x4.
I got fed up with the Garden forum and untill they fix their
problems I"ll be giving them a miss also.

Sludge......:beer&buddy::beer&buddy:
---
new toy you should have

hey joe found what you need for doing the flore wonce you get your wall finshed off. just take off the box on the old 740 and put a 5wheel on it. you might have to add some weaght.

| | |
| --- | --- |
| Lil Giants | 01-18-2009 07:53 AM |
---
The hydraulics come from Leimbach of Germany, although this
company from California
is currently working on designing a 15bar hyd pump for our hobby. Leimbach is probably the best choice for compact control valves and can be bought from gardentrucking.com. And the cylinders (Leimbach) can also be purchased from garden trucking or one can use air cylinders from clippard.com or mcmasters.com at lesser cost.
Thanx
igotit
. :chug:
Lots of ppl have built their own from scratch for considerably less cost, then bought the necessary hyds & electrics to make them work. ;)
The models cost what they cost, I buy what interests me, I don't have much interest in anything else for a past time. I work/pay taxes/run a household everyday just like everybody else here, so don't hassle me how I choose to spend my own earned money. :)
Hi Sludge :wave: :wave: (your name is Joe too, isn't it?)... yeah, the garden was a good home to talk about the hobby at one time... oh well, here is a good place to continue on. :chug:
Somebody told me that they thought they saw your 992 loader on a german forum, I've looked for it but never found it... perhaps you could bring us up to speed with what you posted in the past to get to your present stage of the build? Got a special forum here now for it, start a thread. ;) :)
I wouldn't use the 740 to do that job Martin, the wdc model is much too fragile to work it like that! The single motor barely has enough power to carry a load on it's back... not too mention those spindly little driveshafts throughout would disenegrate in no time. I think the Stahl Volvo A25 adt with it's 6 motors would be a prime canidate for such a beast. Thanx for the vid, the hamster may have a stroke! :lolbeat:
| | |
| --- | --- |
| Lil Giants | 01-18-2009 08:25 AM |
---
Earlier in the week when I was backfilling the east wall, the kh climbing the ramp suddenly skipped out of gear & took off backwards... I was only a few feet away and caught it, but I dropped the radio & broke the tip of the antenna off.
The problem seemed to be coming from the trans, so I pulled it from the trk.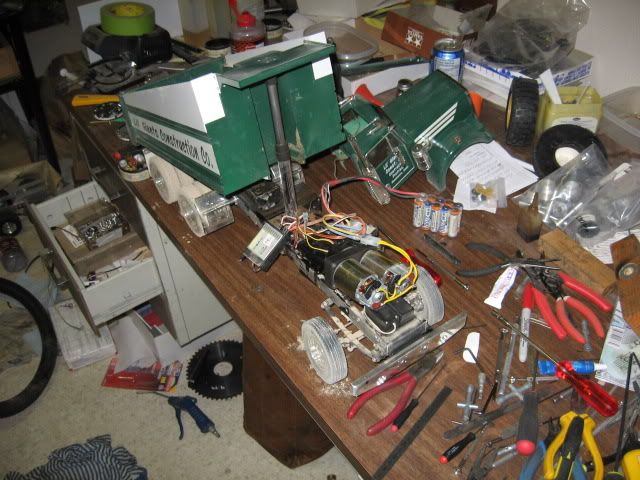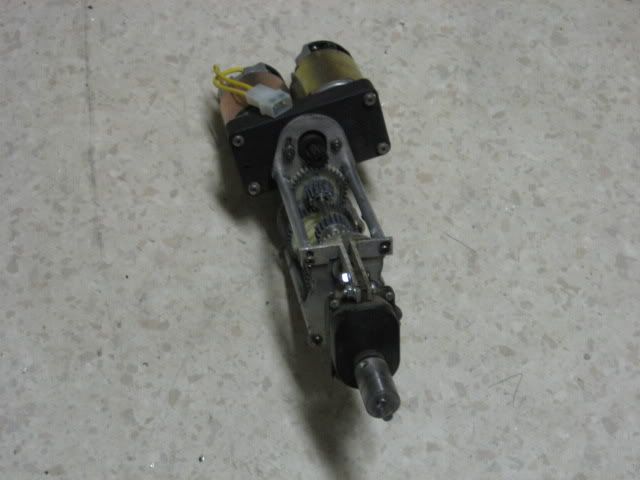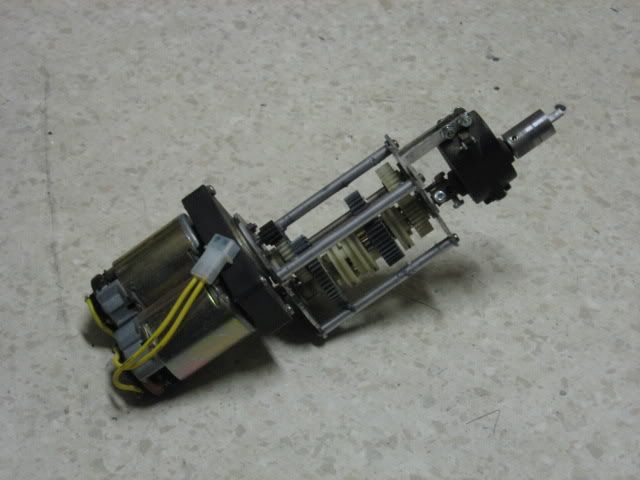 All the gears were fine and though this trans uses all factory brass bushings within it, the shafts had no movement... it kinda seemed that the shift forks had a bit too much play in the shift discs (whatever you call those parts?). I dunno... I had new trans on hand, fully ball bearing'd, so I put that in. ;)
I just made a new vid this morning of my 740 dumping inside the wall... after about 4 trips, the model on the dirt floor near the crusher started acting squirrelly! shutting off/ starting, glitching... wtf?! :thinking:
I have two Polk radios with all my trks programed into both of them, one radio runs out charge, grab the other & continue on. Good plan, eh? Well, I hear thru grapevine a few yrs ago that these radios, which were originally designed for the airplanes, had a bad habbit of loosing signal between with their receivers thus causing a plane crash! It didn't take long for Polk's reputation to turn to mud! I don't think these radios are produced anymore. :thinking:
Soooo, knowing that, I wonder if my near crash with the KH slipping out of gear earlier in the week & now the 740 acting up is the result of one these Polk's going bad? ...time for some new radios. :)
Here's the video.
| | |
| --- | --- |
| modelman | 01-18-2009 04:00 PM |
---
Hi joe-since there has been nothing new at the "garden" for quite a while I thought I would check in here and see what is going on. I see you are still hard at work in the basement.That's great! R/C fun with a purpose. How lucky you are to have that much dirt to move! I am making progress on my shovel but it still doesn't look like anything. It's just parts and pieces but hopefully soon it will start taking shape. Keep up the good work. One more thing-I really like the way videos are posted here. Just click on it without going to YT. That is a better system...
| | |
| --- | --- |
| Lil Giants | 01-18-2009 10:59 PM |
---
Hello Tom :wave:, good to see you here. :chug:
Yep! still poking away at it. Here is what I have mined since building the 1st eight feet of crib wall on the south side last Fall.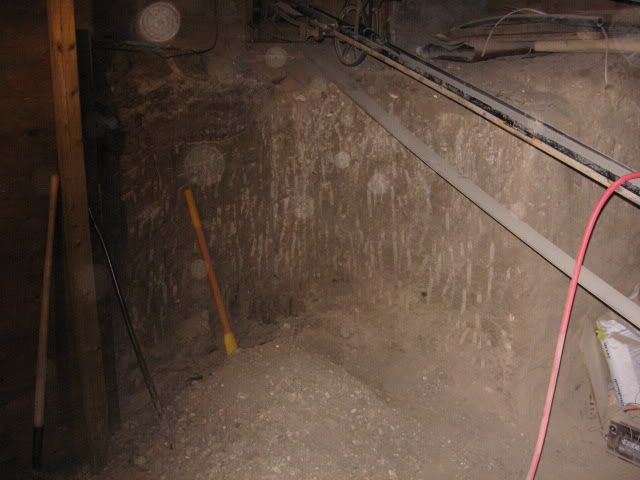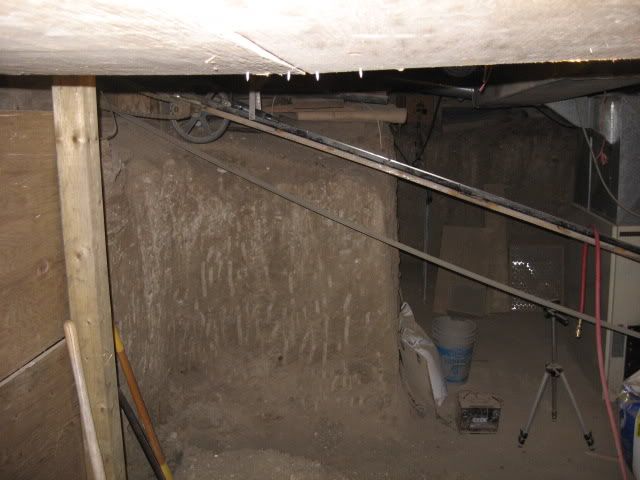 And here's the pile of dirt I chiseled away last night & today. Time to roll in with the equip again and start hauling & crushing.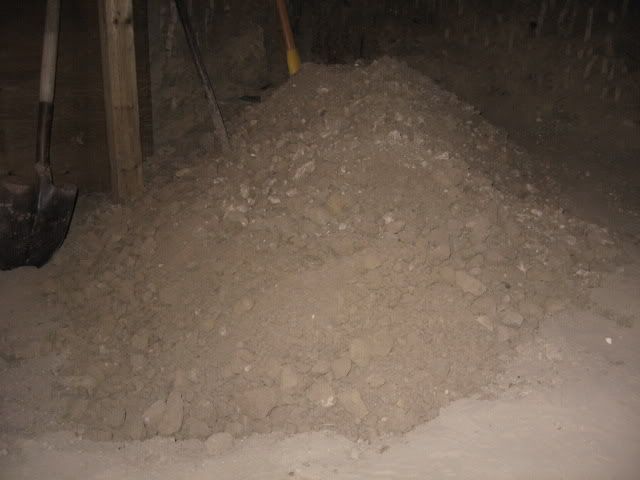 Adding the small screen vids within the thread is a pretty cool feature here, but double clicking the screen to go to the YT site is better so you can click the "full screen" button on lower right of YT player. ;)
I'm looking forward to seeing pics of your shovel one day Tom. :)
| | |
| --- | --- |
| Sludge | 01-19-2009 01:34 AM |
---
Hi Joe.:wave::wave:

Yeah you're right I've started a thread on Modell Baustelle.de. I was born and grew up in germany,
speak read and write german which is a real bonus
when browsing the forums there. Man...do they build some
good models there.

I'll be posting more on the loader when the dumper is done.

Too many Joes around the forums....thought I'd
go undercover.......DRATS.....did'nt work. :whip::whip::whip:

Cheers....Sludge... or Joe... or whatever :rant::rant::rant::rant::rant:
| | |
| --- | --- |
| Sludge | 01-19-2009 01:43 AM |
---
Oh...forgot to mention, it's great to be able to see your pictures again.....finaly. (suffered from withdrawal symptoms over on the garden not beeing able to see what's happening
in your basement) LOL......:beer&buddy::beer&buddy:

Sludge....:nice::nice::nice:
| | |
| --- | --- |
| supertux | 01-19-2009 11:23 AM |
---
Hello again Joe, finally, I've managed to get through all 73 pages at the gardentrucking forum... I only hope updates are regular here? ;) I've decided to one day own a excavator, but for the moment I will have to focus on my trucks. Would it be to much to ask a busy Joe, if I could please have fotos, or a lineup of all your trucks? If you don't have pictures, how many do you have, and did I spot a "Knight Hauler" in your house? Why haven't the white GL got company colors? ;)

Sorry for all the questions hehe


- Petter
All times are GMT -6. The time now is

06:17 AM

.
Powered by vBulletin®
Copyright ©2000 - 2018, Jelsoft Enterprises Ltd.
Copyright ©2004 - 2018, Scale 4x4 R/C