If you get to know me here you will realize that I like to make my own stuff. Almost every thing I build is custom.
Well I started out with a pair Ax-10 axles and trans. Designed a custom delrin chassis.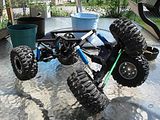 Stage 1. I run a reverse sprung droop setup and it has worked very well for me. I then got a Hot Racing dig unit.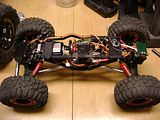 Stage 2. Then over the past few days I have made a few changes to my setup. I relocated all of the electronics to the axles, lowered my steering servo to the axle ditched my original 4 link mounts for a low profile 4 link setup.
Stage 3 Then switched from an AX-10 trans w/ Hot racing dig unit to a new RC4WD R2D II.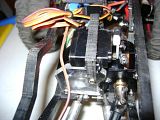 It changed my good comp rig into an awesome comp rig. It is even more stable then it was before. And I placed 3rd of 17 in our clubs summer points series. So I can't wait till next weekend to run in the 3rd comp of our winter series with the new setup. Enjoy the pics