A little late to the party? I saw these in action at the 2011 Montana Scale Nats and saw how they dominated there, and wanted a set ever since. Now Pitbull was kind enough to send me a set to try out, so let's see if they hook up as well in the frozen wasteland of Ohio as they do on the majestic peaks of Montana.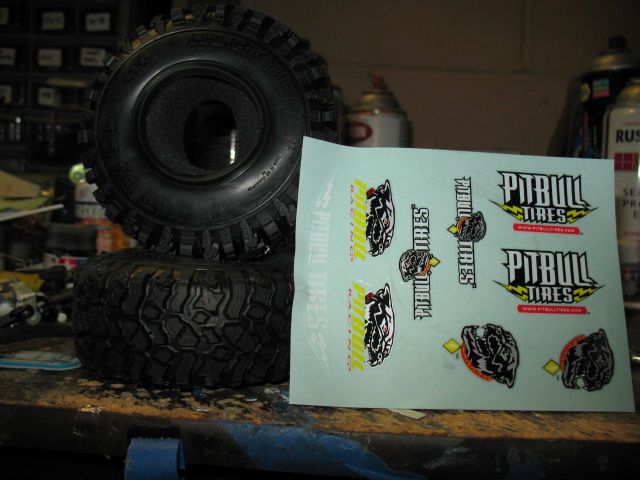 Single-stage foams and a sticker sheet are included. As with the 2.2's they feel nice and sticky right out of the bag.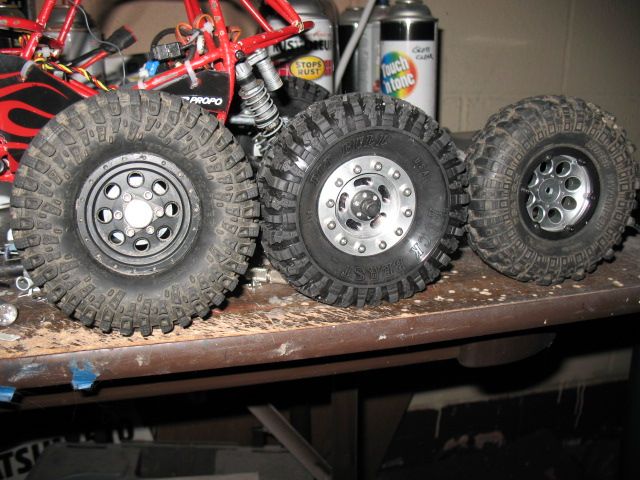 Here they are compared to the RC4WD Iroks (left) and Pro-Line TSL's (right). Height is 4.5 inches on a 1-inch wide wheel. They're not as shiny as their 2.2 big brothers, and the compound feels a little harder. Pitbull says they're both Komp Kompound, but they don't look or feel the same. How big a deal is that? Let's mount 'em up and find out.
As with the 2.2's, there are no mounting hassles. The wheels I used are handmade on a manual mill, not the super-finished wheels we've gotten used to, and as such typically give me some grief when I put tires on, but the Rock Beasts fell right into place, no hassles. I also mounted one to an RC4WD steel wagon wheel and no problems there either.
Out on the rockpile, these guys didn't disappoint. Pick a line, even a stupid one like right up the face of a rock, and the Pitbulls go right up. I should mention that it was 30 degrees outside, which normally turns good tires into hockey pucks. Traction is at a premium in the cold, and if you run in Arctic conditions you'll be amazed at the Pitbulls' performance. I know I was.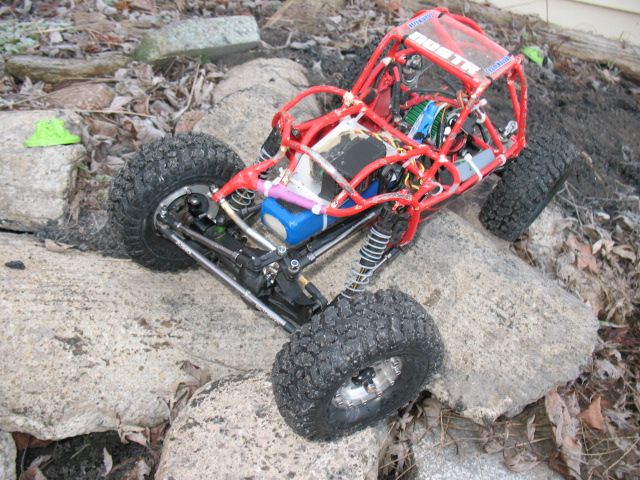 Nice going, idiot. High-centered on the skidplate, only one tire (left front) making contact. Time for a touch penalty, right? Wrong. Not only did the Rock Beast pull the rig off, but it held a line, steering me around right where I wanted to go. Not bad for one tire doing all the work.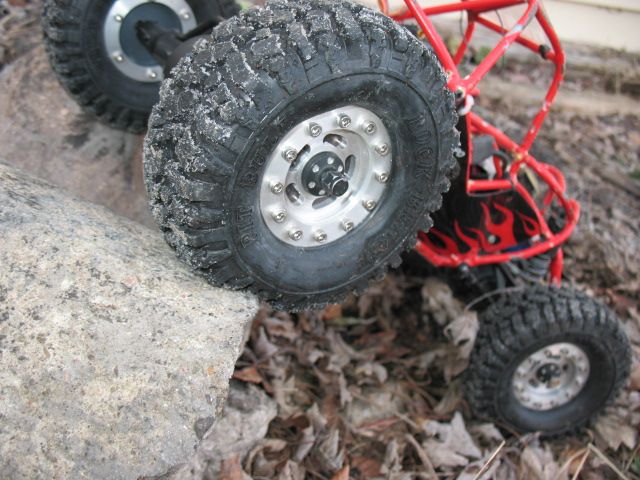 The tread is nice and soft, sidewalls are hard enough that the tread can stay on the ground. This tuber is pretty light (5 pounds) and there's no weight in the wheels, so there's not much gravity at work here.
When it warms up a bit I'll put them on a heavier rig and see how they do. I expect they'll only get better, but will the sidewalls be too soft for a 10-pounder? Find out in our next exciting episode!
For now, I heartily recommend these for a lightweight rig. Two thumbs up!