Written by Keith
Friday, 07 October 2011
Thanks to members Highmark and BADMUTHATRUCKER for bringing us two new reviews. Read their thoughts on RC4WD's new 1.9" Mickey Thompson Baja MTZ tires in their new rubber compound.
Written by Old Busted Hotness
Wednesday, 28 September 2011
OldBustedHotness tests RC4WD's new 1.9" liscenesed Mickey Thompson Baja Claws in their new X2SS rubber compound
"How soft and sticky are they?"
"Their 4.18 height makes them legal for Class 1 (Street Class) competition..."
"...to see how they did out of the box, on a typical overweight scaler"
"RC4WD's line of licensed tires have top-notch detail..."
"...how readily the Claws conform to the rocks."

Click the image below to read the full review on the forums!
Written by Keith
Wednesday, 02 June 2010
We've all seen them before, the awesome Land Rover Defender hard bodies! Having just completed one myself, I can attest to how nice they really are. One of the most frequently asked questions I see about them, is where to get them and how much! ;) Hopefully this article will help point some of you in the right direction. :)
Read more...
Written by Keith
Monday, 28 December 2009
Tired of gluing your tires but don't want the all out hardcore bealock look? Tired of paying tons of money for beadlocks, and looking for a scale wheel? Check out these OEM Steel Wheels from RC4WD! They sure have the scale look down, use internal locking rings, and won't set you back and arm and a leg either...
Read more...
Written by The Sultan of Scale
Thursday, 24 September 2009
So, what's the best 100mm tire, huh? We've assembled six players, one heavyweight rig, and one pile of rocks to find out.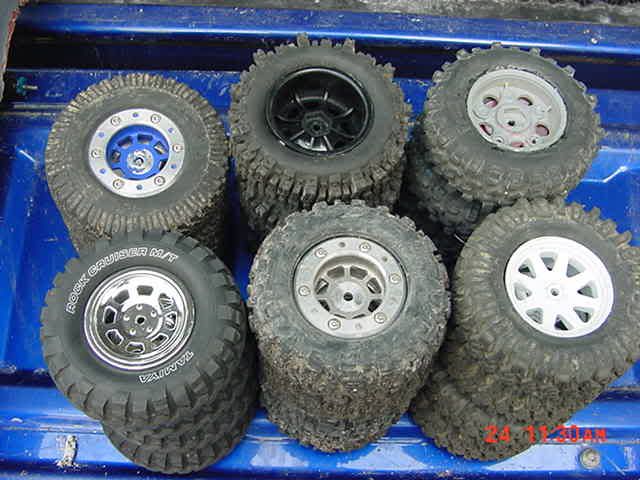 Read more...
<< Start
< Prev
1
2
3
4
5
6
Next >
End >>
Results 10 - 18 of 46