Written by Matt
Monday, 08 October 2007
Congratulations to Mike a.k.a. 1badjeepbruiser for taking the victory in probably the most exciting Featured Ride contest ever. With over 30 entrants it was the largest Featured Ride contest we've ever had and the voting was tight between 4 competitors. The end result was a tie between 1badjeepbruiser's scale Hilux and Wild Trial's custom tube Jeep. That lead to only the 2nd tiebreaker in Scale 4x4 R/C history, with 1badjeepbruiser pulling out the win with votes tallying 65 for 1badjeepbrusier to 49 for Wild Trial. But don't let that 16 vote margin fool you, this contest was much closer than those numbers show!!!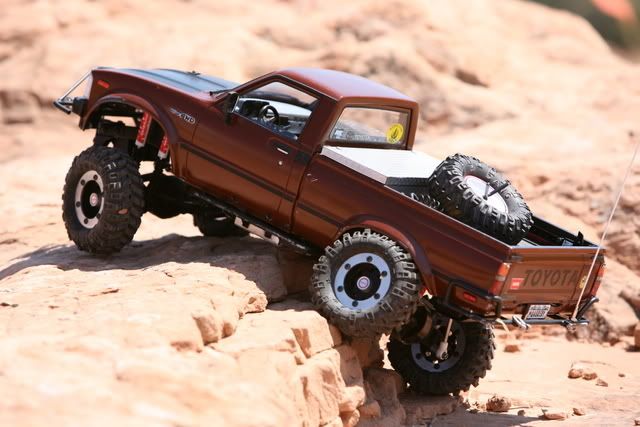 Written by Matt
Tuesday, 10 April 2007
Congratulations goes out to Roy a.k.a.Hummer for his 100% home made ah...um HUMMER. Check out this fantastic piece of craftsmanship. Roy used Maxx components for the drive train and suspension, custom chassis made from 2mm aluminum U-channel, and 100% homebuilt body made from 2mm thick lexan. He also took a set of Imex All-T's and narrowed them on custom fit 1.9" Tamiya Humvee wheels so as to keep with the scale appearance. Last but not least, the hood, doors and tailgate are all functional as well as all the exterior lights. Roy has definitely set the bar high!
Click the image to see then entire build up thread.
Written by Matt
Tuesday, 19 December 2006
Contratulations to Riffister! He is our latest winner in Scale 4x4 R/C's Featured Ride Contest. This was probably one of our closest yet. With just 5 votes seperating the top 4! Once again congrats to Riffister!
To see the entries click here !
To see the voting, click here!
Written by Matt
Thursday, 16 November 2006
Check out our latest Featured Ride winner. Davkin's awesome Toyota FJ40 Landcruiser!