Written by Keith
Wednesday, 02 June 2010
We've all seen them before, the awesome Land Rover Defender hard bodies! Having just completed one myself, I can attest to how nice they really are. One of the most frequently asked questions I see about them, is where to get them and how much! ;) Hopefully this article will help point some of you in the right direction. :)
Read more...
Written by Keith
Monday, 28 December 2009
Tired of gluing your tires but don't want the all out hardcore bealock look? Tired of paying tons of money for beadlocks, and looking for a scale wheel? Check out these OEM Steel Wheels from RC4WD! They sure have the scale look down, use internal locking rings, and won't set you back and arm and a leg either...
Read more...
Written by The Sultan of Scale
Thursday, 24 September 2009
So, what's the best 100mm tire, huh? We've assembled six players, one heavyweight rig, and one pile of rocks to find out.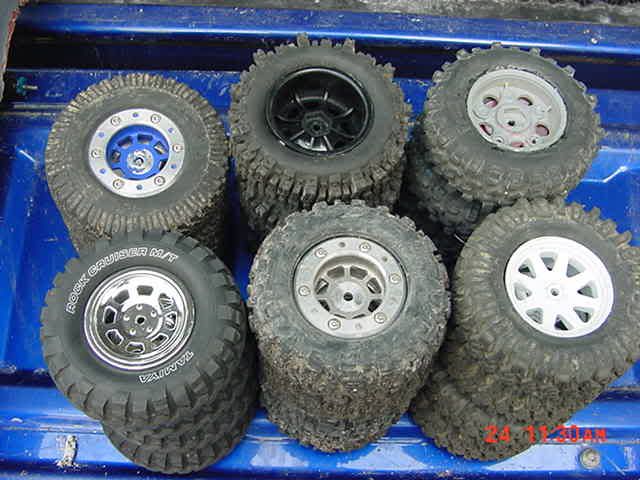 Read more...
Written by Matt
Wednesday, 29 July 2009
Scale 4x4 R/C Summer 2009 Comp from Matt Butler on Vimeo.
Part II
Written by Matt
Thursday, 04 June 2009
Scale 4x4 R/C has learned that Tim Minor a.k.a. KingCobra passed away on May 26th, 2009.

Tim was a longtime member of the board as well as being one hell of a builder. Tim contributed to the board in more ways than he probably realized. Tim, you will be greatly missed by those of us that knew you personally and those of us that only knew you via Scale 4x4 R/C.
Please head over to the official thread on the forums if you wish to make a comment.
We've also got an exclusive forum dedicated to just his builds, click the link below to check it out.
<< Start
< Prev
1
2
3
4
5
6
7
8
9
10
Next >
End >>
Results 64 - 72 of 167