So, what's the best 100mm tire, huh? We've assembled six players, one heavyweight rig, and one pile of rocks to find out.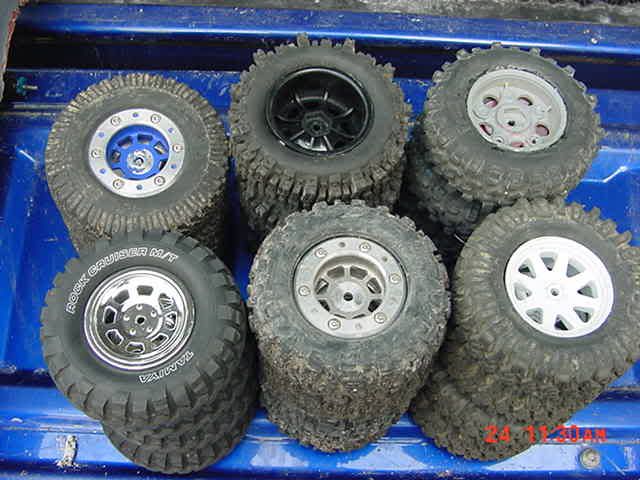 Time to find out once and for all which tires take the biscuit and which ones cut the cheese!
Up for testing are the OEM Tamiya Rock Cruisers, RC4WD Mud Slingers, SDI Trail Doctors (soft), RC4WD Rock Creepers and Dirt Grabbers, and Pro-Line's G8 Chisels.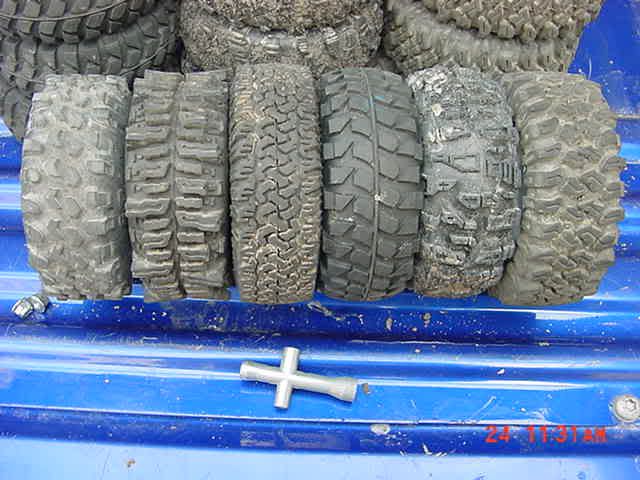 Left to right: Trail Docs, Mud Slingers, Dirt Grabbers, Rock Cruisers, Chisels and Rock Creepers. Also a Tamiya wrench.
I chose my Scout II for the test because it's a big chunky fellow, and some of these tires need weight on 'em to work properly. It's also a stock(ish) Hi-Lift, which lots of people run. Leafs front & rear as God intended.
We're going to judge the tires on scale appearance, rock crawling and mud performance. Both are highly subjective, so you're free to disagree.
First up, the control tire, Tamiya's Rock Cruisers, standard equipment on Hi-Lifts since day one. Appearance-wise they're very good, with a modern radial look and spiffy white letters, which admittedly don't last too long on the rocks. No foams are included or needed, as the sidewalls are very stiff. I wasn't prepared to be impressed, but with the porky Scout pressing down on them they work reasonably well. However, as soon as weight transfers off a wheel it immediately loses traction; there is very little grip. As soon as your diff hits a rock the tires give up. Without the ability to wrap around the rocks, all you can do is spin them and hope for the best. On sidehills they don't hold a line very well and the stiff sidewalls are all too eager to toss the rig on its lid. On the plus side, you get four of them with every kit.
My rockpile has an easy line and a hard line. The Cruisers made it up the easy line, but not the hard line.
Rock Cruisers not living up to their name on the hard line up.
Scale 6/10. They look a bit too much like a road tire, but I do like the white letters.
Rocks 5/10. They're just too hard to really hook up.
Mud 4/10. They load up too easily and you need a toothpick if you want them clean.
Next is the OG Mud Slingers. Back in 2007 these were it. The first real aftermarket scale tire, they caused a sensation at the Augusta meet, and everyone had to have a set. We owe a lot to the old Slingers, as their success paved the road for RC4WD's later offerings.
Time, however, has not been kind to the old Slingers. Their big, beefy tread lugs hold the promise of insane amounts of grip that just isn't there. The big lugs fold over on obstacles and the compound doesn't offer much grip. Sidehill traction is only fair, as the mud tread slides off to the side.
Slingers also have a weird concave read if you mount them on a wheel wider than 28mm. This doesn't help traction. The included foams let the sidewalls flex a good bit, but the large tread blocks prevent any real grip on the rocks.
However, they grip better than Cruisers. The Slingers made it up the easy line, but gave up on the hard line. In the mud, they really shine, throwing that crap all over the place, which is what you'd expect given the name. Self-cleaning is good but not great.
Scale 7/10. Many don't care for the oversized lugs.
Rocks 5/10. Really not the right element for Slingers.
Mud 9/10. Best mud tire out there. 10 if they'd clean out better.
SDI got into the game shortly after the Slingers made their first appearance. The Trail Doctors have a smooth sidewall, mostly accurate tread (opened up a bit for better grip and cleanout) and a choice of compounds. The Docs work best with a bit of wheelspeed; they'll grip once you start burning 'em. Forward bite and sidehill performance is good but not fantastic. As no foams are included, you have to choose your foam carefully but with the right setup, grip happens.
Trail Docs handled both lines with little difficulty.
In the mud, the Doctor is in. Very good grip and excellent self-cleaning. Not as good there as Slingers, but certainly a good choice.
Trail Docs wear noticeably with use. It's not a bad idea to rotate them once in a while to get the maximum life out of them.
Scale 8/10. DrKucho captured the look very well.
Rocks 6/10. Good but not spectacular.
Mud 7/10. Again, competent but not great.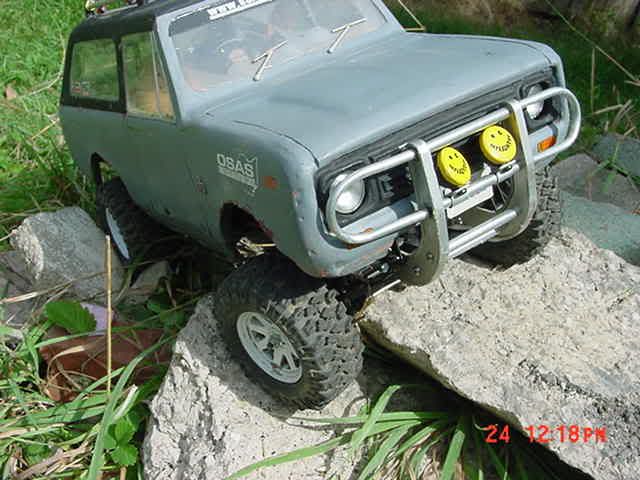 Creepers, creeping.
RC4WD's Rock Creepers come up next. I had these on my Pajero Xtreme and hated them, so I was prepared to hate them again. However, under a pig like the Scout II, the Creepers show their potential, walking up the hard line like a comp rig. The sidewalls flex very well and the tread bites in once it's got some weight on. There's enough grip to blip the rig over pumpkin-snagging obstacles, unlike the Cruisers that just give up when unloaded. Wheelspeed isn't the best approach with these; you need to slow down and let them do work. Sidehill performance is very good and they hold a line well,
Scale-wise the Creepers are very good. The side lugs are a bit oversize, but they justify themselves out on the rocks. The Creepers are fairly wide, which looks right under a 1/8 scale truck like the Scout.
In the mud they're very good, almost brilliant. Self-cleaning is better than expected given the tight tread, and the lugs will fling plenty of glop all over your rig.
Creepers also wear noticeably with use. After a couple battery packs, the leading edge of the tread blocks start to get shaggy.
Scale 8/10. The tread is replicated very well, side lugs just a little oversize.
Rocks 8/10 on a heavy rig, but 6/10 on a lightweight.
Mud 8/10. Better than expected.
Next up is a set of RC4WD Dir Grabbers (they added a "t" to later batches), which I fell in love with at first sight. Tall and skinny, with the BFG tread reproduced perfectly, with accurately-sized tread blocks and sidewall lugs, even the tire size and speed rating molded in just like the 1:1. But there's no way a tread this tight will work. Or will it?
Grabbers need a bit more wheelspeed than Creepers, but the traction is there, if the tires are clean. Water and mud take up residence in the tread and can make things slick in a hurry, but on dry rock, the tires grip surprisingly well. Again, they need a heavy rig to perform. Grabbers made it up both trails easily.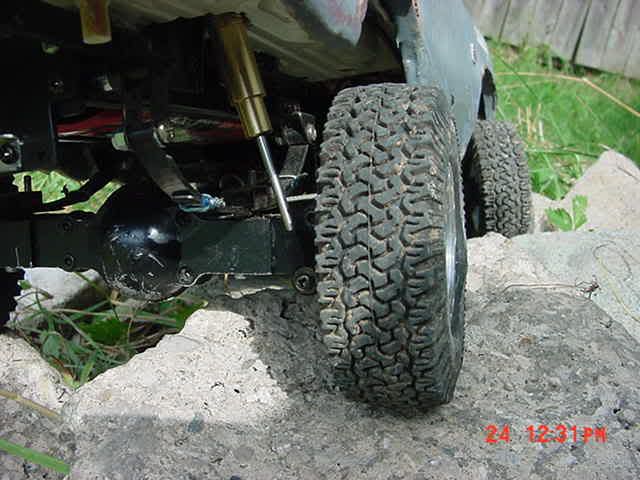 Grabbers, grabbing.
In the mud they're okay but load up easily, and don't clean out well at all.
Scale 10/10. They nailed it.
Rocks 8/10, very surprising given the tight tread pattern. The grip is there if you keep them clean.
Mud 5/10, poor cleanout and too easy to load up.
Finally, Pro-Line's G8 Chisels. Frankly I love the G8 compound, so I was prepared to love these. On the Pajero the improvement over the Creepers was immediate, like unhooking an anchor chain from the back. These are comp tires and it shows immediately. The sidewalls wrinkle up like drag slicks and the G8 sticks like gum to a cat. Unlike the Creepers and Grabbers, the G8's work fine on lightweight rigs (they're marketed as comp tires for the Losi MRC) as well as hogs like this. There's enough grip on hand to blow a Traxxas driveshaft apart, and there's no problems dragging the pumpkin across an obstacle. These things flat-out get it done.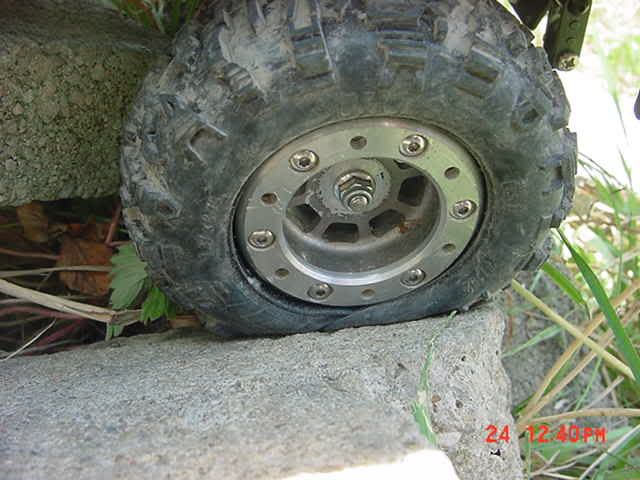 Chisels, getting wrinkley.
In the mud, it's a different story. They don't self-clean at all, and only halfheartedly throw the goop around. The good news is that they'll still grip rocks even when dirty.
Scale-wise, they're good but not great. They do resemble a 1:1 tire, but Pro-line made performance top priority.
Scale 7/10, passable but a comp tire at heart.
Rocks 10/10, just wow.
Mud 6/10, they'll go if you really have to.
So, final points standings:
Cruisers 15
Slingers 21
Trail Docs 22
Creepers 24
Grabbers 23
Chisels 23
It gets pretty tight at the top, and you really have to choose based on your intended use. While Chisels and Grabbers both rack up 23 points, they shine in different areas. For dry rocks, Chisels all the way. If you want the most accurate scale appearance, go Grabbers. Creepers surprised me with very good all-around performance. Slingers are the obvious choice for a mud truck, and Trail Docs came in as the second-best all-rounders. So which one's the best? You'll have to decide, but the Scout is very happy with Creepers on.